Honda 4hp Outboard
The iBoats Experience
Boats for Sale
Browse thousands of constantly-updated listings and search by location, brand, and boat type
See more...
Advice
Connect with our expansive community and tap into the knowledge base of the most dedicated boaters around.
See more...
Shop Products
Browse and search for hundreds of thousands of boat parts, accessories, and supplies to suit your every need.
Free Shipping to the lower 48 states.
Honda 4 HP Engine Features:
Weighing in at just 60 pounds and outfitted with an Integrated Carrying Handle, Honda Marine's BF4 is perfect for portability. Its 127 cc engine features a water-cooled, single cylinder design for excellent low- to mid-range power, while a Digital CD Ignition and twist grip throttle combine to make the BF4 easy to start and operate.
4-Stroke Design - World-renowned Honda quality combines proven reliability and superior fuel efficiency, with no oil mixing.
Lightweight/Compact Design - Easy to transport, BF4 is perfect for small tenders and canoes.
Large Displacement Engine - Water-cooled, single cylinder design for better low- to mid-range power.
Digital CD Ignition - Maintenance free, high-energy output for quick and easy starts.
Low Oil Warning System - Standard warning system protects the engine from severe damage during a low engine oil situation.
Twist Grip Throttle - Allows for precise throttle control, and the throttle tensioner minimizes driver fatigue.
Front Mount Carrying Handle - Provides superior portability and ease of installation.
Double Alerts protect yout engine - A Low Oil Alert combined with an RPM reduction feature protect the engine from severe damage if the oil reaches a low pressure.
Fold-Down Tiller Handle - The tiller handle's compact design allows for easy transportation and storage.
Shallow Water Drive - Allows you to run in shallow water and greatly reduces the risk of engine damage.
Corrosion Protection System - A patented, "Double Sealed" multi-layered paint process. Sacrificial anodes and stainless steel technology, along with waterproof connectors, all enhance corrosion protection.
Neutral Start Only - The BF4 incorporates a safety lockout system, which allows the engine to be started in neutral gear only.
F-N-R Gearshift - With neutral in-start protection.
Positive Lubrication - A crankshaft-driven, automotive-style trochoid oil pump ensures long-term durability of critical engine components.
Ultra Low 3 Star Carb Emissions - Environmentally friendly technology
Large capacity internal fuel tank for best in class run time
5 Year Non-Declining Warranty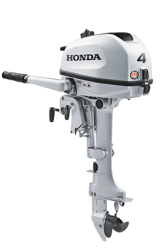 4hp Outboard, Short Shaft - Honda Marine
Free Shipping to the lower 48 states. Please be careful when ordering to choose the correct product, outboards are NOT returnable.
Honda 4 HP Engine Specifications:
Type - 4-stroke OHV Single Cylinder
Model-Tiller Handle
Displacement - 127cc (7.8 cubic inches)
Full Throttle RPM Range - 4500-5500 RPM
HP Rating @ Propshaft - 4HP @ 5000 RPM
Valves per Cylinder - 2
Fuel Delivery - Single Venturi
Ignition System - Digital CDI
Starting System - Manual
Cooling System - Water Cooled

Gear Ratio - 2.08:1
Gear Shift - F-N-R
Propeller - 3 Blade Aluminum 7 7/8 x 7 1/2 inches

Transom Height - 15 inches
Dry Weight - 60 lbs

*Comes with 1.5 liter internal fuel tank and prop.
This product ships in 1 business day.
Add to Cart and enter your Postal Code to determine the shipping charges.
Most products and orders leave our warehouse in 1 business day. However, select items may take more processing time. Alaska and Hawaii orders please add 1 additional warehouse processing day.
Standard Shipping Policies