Taco Marine Accessory-Ready Parts
The iBoats Experience
Boats for Sale
Browse thousands of constantly-updated listings and search by location, brand, and boat type
See more...
Advice
Connect with our expansive community and tap into the knowledge base of the most dedicated boaters around.
See more...
Shop Products
Browse and search for hundreds of thousands of boat parts, accessories, and supplies to suit your every need.
Add Accessory-Ready accessories to T-tops, poling platforms, bow rails and more. Each clamp adjusts to fit two pipe sizes. Fit Accessory-Ready rod holders. Anodized aluminum.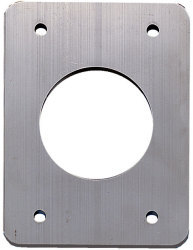 View Larger Photo
Backing Plate - Taco
For additional support when mounting to hard tops and gunnels. 6-1/2"L x 5"W.
Q:
Does this include base or just the backing plate. In other word I only need to add my own outrigger poles?
A:
This is the backing plate only.
Question & Answer Guidelines
This product ships in 5 business days.
Add to Cart and enter your Postal Code to determine the shipping charges.
Most products and orders leave our warehouse in 1 business day. However, select items may take more processing time. Alaska and Hawaii orders please add 1 additional warehouse processing day.
Standard Shipping Policies