Water Separating Universal Fuel Filter Kit- Sierra
The iBoats Experience
Boats for Sale
Browse thousands of constantly-updated listings and search by location, brand, and boat type
See more...
Advice
Connect with our expansive community and tap into the knowledge base of the most dedicated boaters around.
See more...
Shop Products
Browse and search for hundreds of thousands of boat parts, accessories, and supplies to suit your every need.
Fuel water separator filter with bracket. Replaces 35-60494A4. Includes, 18-7845 filter, 18-7853 bracket. Not to be used on 1992 GenII 4.3L and 4.3LX engines using in-line fuel filter OE#35-80531T.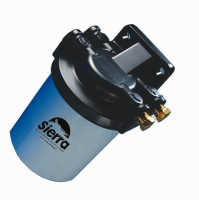 View Larger Photo
Sierra 18-7852-1 Fuel Water Separator Kit
18-9004 Pipe Sealant with Teflon is recommended for use on filter bracket fitting threads
Kit Type:
1/4" Aluminum (tall filter)
Contains:
(1) 18-7845 or 6031 Filter

(1) 18-7853-1 Bracket

(2) 18-4256 Brass Pipe Plugs
Details:
Sierra fuel water separators remove over 99.8% of emulsified water from your gasoline
Able to supply even the biggest engine with a 90 GPH flow.
Prevent damage to sensitive inboard, sterndrive and outboard fuel injection systems
Material: Aluminum (Tall Filter)
Rating: 21 Micron
Size: 1/4" or 6.4mm
Replaces OEM part #
MERCURY MARINER 35-60494 A4
MERCURY MARINER 32-802893Q4
MERCURY MARINER 35-805269 A4
SUZUKI 99105-20005
YAMAHA MAR-SEPAR-AT-OR
CRUSADER 22687
Mallory 9-37851 Filter Fuel Water Seperator Kit
Replaces Original Equipment Manufacturer(OEM):Mercury / Volvo / Yamaha / Suzuki
Replaces Original Equipment Manufacturer # (OEM #):35-802893Q4 / 35-805269A4

Q:
My fule lines are 3/8 id, will this filter work for me ?
A:
Sierra cannot match it up by measurements. They can only match it up by engine application. Contact us at the number at the top of the page for more assistance.
Question & Answer Guidelines
This product ships in 1 business day.
Add to Cart and enter your Postal Code to determine the shipping charges.
Most products and orders leave our warehouse in 1 business day. However, select items may take more processing time. Alaska and Hawaii orders please add 1 additional warehouse processing day.
Standard Shipping Policies