Sierra Marine Sterndrive Oil
The iBoats Experience
Boats for Sale
Browse thousands of constantly-updated listings and search by location, brand, and boat type
See more...
Advice
Connect with our expansive community and tap into the knowledge base of the most dedicated boaters around.
See more...
Shop Products
Browse and search for hundreds of thousands of boat parts, accessories, and supplies to suit your every need.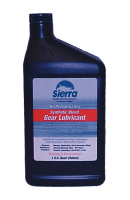 Has been formulated to provide excellent lubrication and corrosion protection.
Stern drive and inboard engines operate under high load and running stresses.
This product is developed for the marine environment and will out perform standard 4-cycle automotive engine oils.
Sierra's 25W-40 oil offers excellent detergency, anti-oxidants, antiwear, and corrosion protection.
Meets or exceeds quality performance API SJ, CF-4, CH-4.
Recommended for use in Mercruiser, OMC and Volvo Penta.
Q:
Have used Quicksilver Gear Lube SAE 90 #92-858064Q01, does the Sierra SAE 30 #18-9410-2 provide same protection and quality?? Thanks, Roger Bell 8/08/15?
A:
The technicians at Sierra say that this oil will perform just as well, if not better than the Quicksilver gear lube. It provides excellent corrosion resistance, and lubrication. If you have any other questions, please contact the number at the top of the webpage.
Question & Answer Guidelines
This product ships in 1 business day.
Add to Cart and enter your Postal Code to determine the shipping charges.
Most products and orders leave our warehouse in 1 business day. However, select items may take more processing time. Alaska and Hawaii orders please add 1 additional warehouse processing day.
Standard Shipping Policies