X4L18 NI AMBUSH SKI 1.250 INCH
The iBoats Experience
Boats for Sale
Browse thousands of constantly-updated listings and search by location, brand, and boat type
See more...
Advice
Connect with our expansive community and tap into the knowledge base of the most dedicated boaters around.
See more...
Shop Products
Browse and search for hundreds of thousands of boat parts, accessories, and supplies to suit your every need.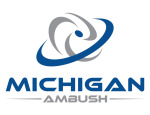 This item is found in the following Product Families
Michigan Wheel Corporation uses only the finest grade NiBrAl material: Michalloy X. This material promotes strength durability and consistent performance. Ambush4 is a high-polished 4-blade cupped propeller designed specifically for the ski/tow boat enthusiast. New advances in the manufacturing process enable Michigan Wheel Corporation to produce a very accurate and consistent propeller. Exact execution of superior design maximizes performance and minimizes vibration.
This product ships in 1 business day.
Add to Cart and enter your Postal Code to determine the shipping charges.
Most products and orders leave our warehouse in 1 business day. However, select items may take more processing time. Alaska and Hawaii orders please add 1 additional warehouse processing day.
Standard Shipping Policies